news
So glad you made it!
Welcome to our website. This is the place where we have the opportunity to meet and for us to show you some of the projects we have worked on over the past few years. All these lovely and challenging projects are initiatives into which we put all of our knowledge, passion and energy. Please take the time to browse through everything and find out exactly who we are and what we can do.
The tale of our trousers
INVISTA Woven bottom trends
What should they look like and how should they perform in wear? We help show the relevance of textile innovations for specific fashion styles, pointing out the needs, the likes and the problems. We outline solutions, benefits and aesthetics.
Photography by Raw Color for Stijlinstituut.
Make jeans fly
Stijlinstituut for Calik
Stijlinstituut produced a concept garment collection and video for Calik denim that set the active jean market on fire: they launch an incredibly light denim with ultra-smooth touch, hyper-stretch and high-recovery properties. Calik commissioned us to explore, test and inspire so we created a series of urban sportswear hybrids and then featured them in a video.
Fashion fabric future
Fashion fabric preview for Textile View Magazine
Should the fashion industry be led by algorithms? We make a strong case for accidental design. By enabling people to continually reinvent themselves we are sustaining diversity and creativity for each and every look.
Envisions for Stijlinstituut: Sanne Schuurman, Elvis Wesley, Adrianus Kundert, Aukje Fleur Janssen, Photography Ronald Smits
We push innovation
The future of making for Textile View Magazine
We came across this wonder-world, full of radically new aesthetics and disruptive technologies. Designers are operating at the borders between creative human gesture, machine robotics and computer algorithms to explore material, shape and function. Emotionally engaging and immersive realities are being devised with some clever input, smart investment and experimental freedom.
Ad hoc
Animation by Peter Hsieh
Modern-day, high-speed pace of life is making individuals more mobile, so there is demand for adaptability and flexibility in clothing solutions just as in other areas. We as designers and consultants adapt that same flexibility to address the businesses fast changing and highly individual needs.
The future of making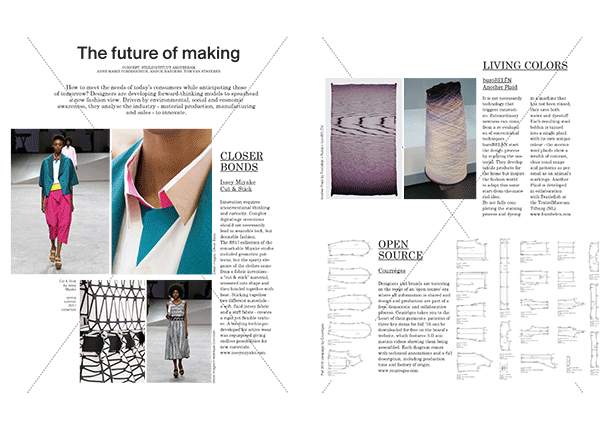 The future of making for Textile View Magazine
Stijlinstituut Amsterdam explores for Textile View Magazine how to meet the needs of today's consumers while anticipating those of tomorrow? Designers are developing forward-thinking models to spearhead a new fashion view. Driven by environmental, social and economic awareness, they analyse the industry – material production, manufacturing and sales – to innovate.
When stealth is needed
Video by Bart Hess
We need to learn how to deal and live with uncertainty and the complexities of our world instead of creating mechanisms that hide them or make us pretend it is not there. control only gives us a temporary feeling of satisfaction. In our stories for the season we propose several entertaining as well as provocative answers to threats.
Design for better living

Interior trends for Heimtextil international trend meeting
We make presentations bursting with inspiration. For 2018 we were captured by The Fear and Love exhibition at. the new Design Museum in London, noting that our love for the world and our fears are feeding the best of design. We aim to offer you inspiration how to improve processes, to add meaning, and to explore ways to generate design that improves our lives while doing less harm. To produce successful design for better living.
Life asks legs to perform
INVISTA legwear innovation collection 17/18
We designed this innovation collection realising that legwear is in the slipstream of athleisure, where all-round 24/7 comfort and performance features are pushed to new limits – as basic requirements allowing us to face the stresses and strains of contemporary and future lifestyles.
Opening up time capsules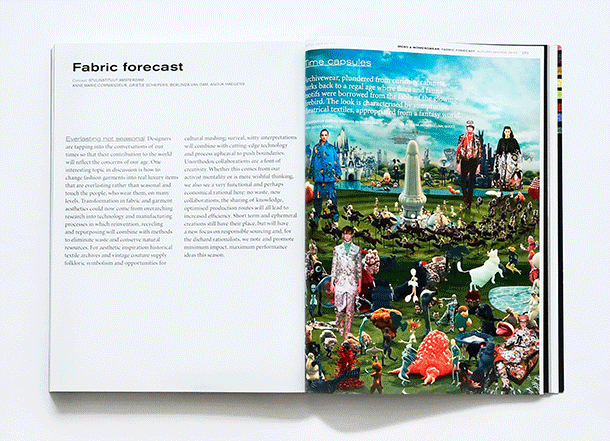 Textile View Magazine fabric preview A/W 2018/2019
Designers are tapping into the conversations of our times so that their contribution to the world will reflect the concerns of our age. One interesting topic in discussion is how to change fashion garments into real luxury items that are everlasting, not seasonal and touch the people who wear them on many levels.
We explore technological innovations in design
What technology brings us, a masterclass for Modefabriek
Stijlinstituut favours project tapping into innovation and technological development. Let us help you to envision which emotionally engaging and immersive concepts could be devised with some smart/clever inputs and experimental freedom?
LYCRA® FIBRE MOVES event in Como
Presentation by Anne Marie Commandeur
We were invited to speak during the LYCRA® FIBRE MOVES event in Como to reflect on the future of super sheer hosiery and how legwear could enable us to be an optimal version of ourselves.
We challenge by asking questions
VIEW 113 is OUT NOW!
We challenge by asking questions. Aren't we just bugs in this endless universe, crying out loud to get some attention, dressing up to be seen and recognized?
The magazine is available in stores and at www.view-publications.com/textile-view-issue-113/
Featuring Turkish fabrics
Design Turkish Fabric Forum Premiere Vision, February 2016, Paris
For ITKIB, Turkish Textile and Apparel Exporters' Association, we materialised the fashion textile trends in the shape of a dynamic forum. Spring-Summer 2017 trend and colour directions synthesized in a flyer and showcased in a colourful meeting and information point containing over 400 fashion fabrics.

The making of
Vibrant London
Field trip to 
London
Stijlinstituut assisted in organising a field trip to London for MA Fashion Matters students from the Sandberg Institute, the purpose was to absorb the creative and entrepreneurial flow of the city. A two-day workshop at Central Saint Martins, lectures by Carole Collet, Lucy McRae, Anna-Nicole Ziesche, and visits to augmented retail experts Holition and the Helen Story Foundation were part of the program.
Always in search of a narrative
VIEW 111 is OUT NOW!
And, when it comes to seasonal fashion fabric trends, we are always in search of that bigger picture, employing a healthy dose of design activism. 
The magazine is available in stores and at www.view-publications.com/textile-view-issue-111/
Publishing design in lifestyle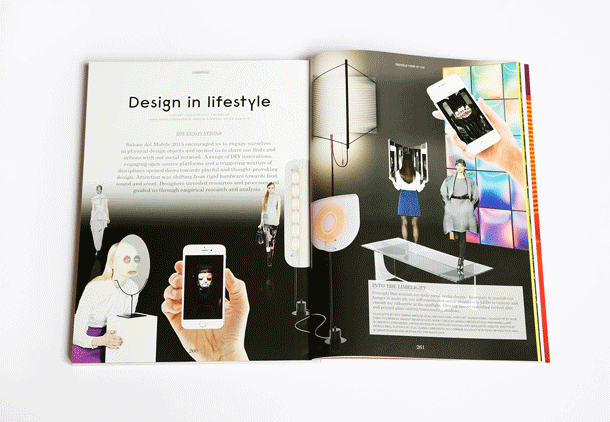 VIEW 110 is OUT NOW!
We created the 'design in lifestyle' pages with a trend report from the Salone del Mobile, Milan 2015.
The magazine is available in stores and at www.view-publications.com/textile-view-issue-110/
The virtual home
Living Room
For Heimtextil 2016 Theme Park, stijlinstituut developed two multimedia presentations together with visual artists DEFRAME. In 'Living Room', a projection mapping installation showed the latest in patterns and colour and an Oculus Rift installation gave the visitor an impression of how the Oculus technology could be applied to retail environments.
Heimtextil, the making of
Work in progress
At the start of this year we worked with a wonderful team of designers on the creation of Heimtextil Theme Park, a 2.200M2 trend forum. We were all passionate about our goal to inform, inspire, surprise and raise spirits.
Wrapping trends
Photography of the Invista Tool Kit
We created a toolkit to showcase Invista Intimate and Swimwear innovations for 2016. We constantly explore ways to keep our visual language fresh and powerful. To see the whole publication, please click here.